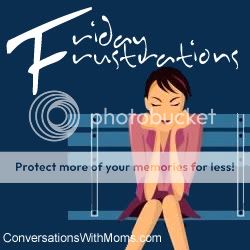 Its been a while since I last posted an entry for this meme and today is a good time to create one. Since finals week is almost over, I want to release some of my frustrations. So here goes...
Friday for most people is a happy day. Friday means the start of weekend and who shouldn't feel happy about that? And I guess you already know where I am pointing at, hence, the meme title. :)
So, this week's frustrations-list is full. Lets start with the issue during finals week. It's normal if everyone feels stressed out because of all the final requirements and with that comes the due date all on the same day. Earlier today, everyone including me joined the rush and cramming, trying to finish editing 2 videos. When you cram and try to finish things is a bara-bara way, the result is not good. Getting error on the computer while making last adjustment is part of it but giving up is not an option because for me, my brain already is programmed to believe that being a student is not easy. Finals week is the hardest part for all of us students. I think it's harder for mascom students because we are not just required to make written output, we have to make videos too. I started taking up electronic media class this semester and I only learned the basics, in my case, it was self-taught because I cannot understand jargon words, I'm too shy to ask, I'd rather research on it. I managed to edit a video earlier today with the help from my angel today named Vernon. He's gay btw and a very pretty, fashionista pa. Without her, I won't be able to figure out why my videos ain't working. I will be finishing the edits tomorrow.
Next on the list is how someone can ditch you just like that. Well, I can't really do anything about that because that's just who they are. Just because I've been nice to them, doesn't mean I get the same reaction. I learned a lot from this way back but still, it is frustrating.
I am nervous for tomorrow. I don't have a video reel yet. I need to make a 5 minute video. Blogging and repairing is what I am doing now, hope I can get to make the Avid Studio trial version work. Even if it means no sleeping tonight.
I almost lost all my files today because of a virus. I also almost lost the USB I just borrowed. Having to rush and cram makes people disoriented and 90% will lose an important something if they are not careful.
2 weeks pile of dirty clothes is waiting for me this weekend. I know, hello back pain.
This is all I can remember for now. There are a lot more because life is fun like that. _kBye_